Virtual Hands-on Workshops
Not sure if schools will be online or in person? Are you looking for extracurricular activities for your kids that won't get cancelled if teaching goes virtual?
EXPLORUM offers weekly virtual workshops that your kids can do from the comfort and safety of your kitchen.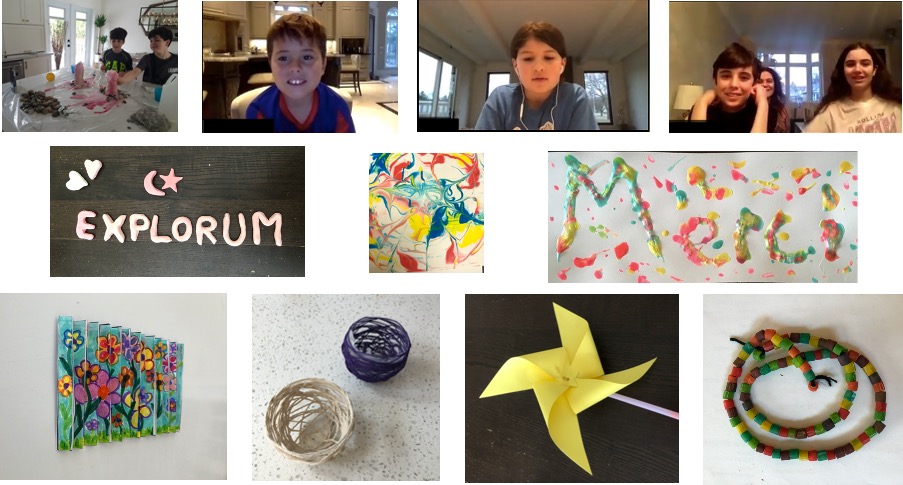 Each week, we lead a different workshop: Science, Magic or Arts & Crafts; our activities are the ideal solution to keep your kids busy for an hour while you carry on with your busy life! Kids have fun and learn something interesting without even realising it. Our counsellors guide them step by step through the activity via videoconferencing.
We will send you a list of material needed to carry out each workshop - nothing complicated: paper, markers, scissors, glue, baking soda, flour etc. All household items you already have in your cupboards! We will even help you in case you need to find a substitute for an item.
Combine the art of science with the science of art, add a zest of magic and Voilà, you have the perfect combination of extracurricular workshops in these uncertain times.
Here is what you need
A screen (computer, tablet, phone) connected to the internet

A webcam so you can see us when we deliver the workshop

Audio turned on so you can ask questions and discuss the activity

An adult to set up and maybe help in some cases

The materials from the list each week

A child to carry out the activity
Practical Information
Ages: 6 to 12 year-olds
Frequency: Weekly over 9 weeks
Dates: January 11 to March 11, 2021

Mondays - 6-8 year olds in French

Thursdays - 9-12 year olds in French

Times: 4:30 to 5:30 p.m. (E.S.T. | length is approximate)
Workshop format: Hands-on activities
Material: List provided January 8, 2021
Price: $153+HST for the 9-week session
Registration deadline: January 7, 2021
Register here! $153 +HST for the 9-workshop series.
EXPLORUM reserves the right to cancel the workshops if a minimum number of registrations is not reached. Payment will not be processed until the session is confirmed.