March Break Camp (March 14 to 18)
Kids, if you are between 5 and 11 years of age, join us for Science/Arts virtual activities during your March Break!
COVID NEWS! We're happy to announce that some of our programs will be offered in person at l'Alliance française de Toronto!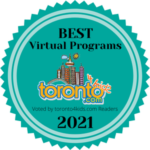 5-6 year olds (with a parent) - The science and the art of colours
During this camp, 4- to 5-year-olds will explore colours through a series of artistic science experiments that will allow them to discover the properties of colours, by mixing them and separating them as well as combining them into creative pieces of art (virtual only).
7-9 year-olds - STEAM Workshops 
In Person!
Young explorers will enjoy a week of fusion activities… A little bit of science, some art and just enough creativity will keep your children busy and give you a chance to work, relax or whatever else you want to do (in person at AFT combined with 3 hours of French language activities).
10-11 year-olds - STEAM Challenges -

SOLD OUT
Scientists wanna-be's will examine various science topics through experiments and STEAM activities and explore arts while undertaking artistic projects (virtual only).
We will provide suggestions and instructions for optional follow-up activities after the workshops to keep your young ones occupied for longer!
Camp information
Ages:

5 to 11 year-olds

Dates and times (March 14 to 18):

The Science and Arts of Colours - 5-6 year-olds: Daily from 9:30 a.m. to 10:15 a.m. (E.S.T.)
STEAM Workshops - 7-9 year-olds: Daily from 9:00 a.m. to 3:00 p.m. (E.S.T.)
STEAM Challenges - 10-11 year-olds: Daily from 1:00 p.m. to 3:00 p.m. (E.S.T.) - 

SOLD OUT

Camp Price:

5-6 year-olds with parent (45 minutes/day): $75
7-9 year-olds (9 a.m. - 3 a.m. in person): $325
10-11 year-olds (2 hours/day): $145 -

SOLD OUT

Registration deadline:
For more information, please contact us at: [email protected]
Here is what you need
A screen (computer, tablet, phone - better yet: a big screen TV) connected to the internet

A webcam so you can see us when we deliver the workshop

Audio turned on so you can ask questions and discuss the activity
An adult to set up and maybe help in some cases

The materials from the list each week (if applicable)

A child to carry out the activity
March Break Camps: $75 to $145/week +HST (book here) | In person Camp at AFT: $325/week + HST (book here)
Registration deadline: March 11, 2022
EXPLORUM reserves the right to cancel the workshops if a minimum number of registrations is not reached. Payment will be reimbursed 100% if session is cancelled.
We will send you a list of material needed to carry out each workshop 2-3 days prior to the start of each session - nothing complicated: paper, markers, scissors, glue, baking soda, flour etc. All household items you already have in your cupboards! We will even help you in case you need to find a substitute for an item.
Please make sure your child has all the materials ready in order to carry out the activity with everyone else!